The congregation at Cripple Creek Church is family based and diverse in age ranging from young children to seniors.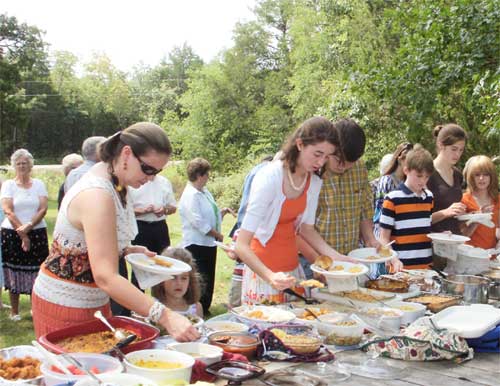 Homecoming on the lawn
Young and old alike enjoy a luncheon served picinic style on the lawn
The People
Pastor Clark likes to describe the people of the church as "A Small Church with a Big Heart." There is a generosity about the people at Cripple Creek. They are generous with their gifts of talents, money, time, and trash [that's recycling]. When you visit, they are generous with their welcome. Nestled on the back roads of Rutherford and Cannon Counties, they form a diverse congregation of people, youth, and children who treasure the nurture of worship and Christian education. They like fellowship, a biblically based life-style, and reach out whenever they can to needs in the community. Our food bank collections for Woodbury, monthly nursing home services, and personal mission, serve the needs of the community, county, state, nation, and the world. This outreach reflects our understanding of the teachings of Christ. A good place to worship!